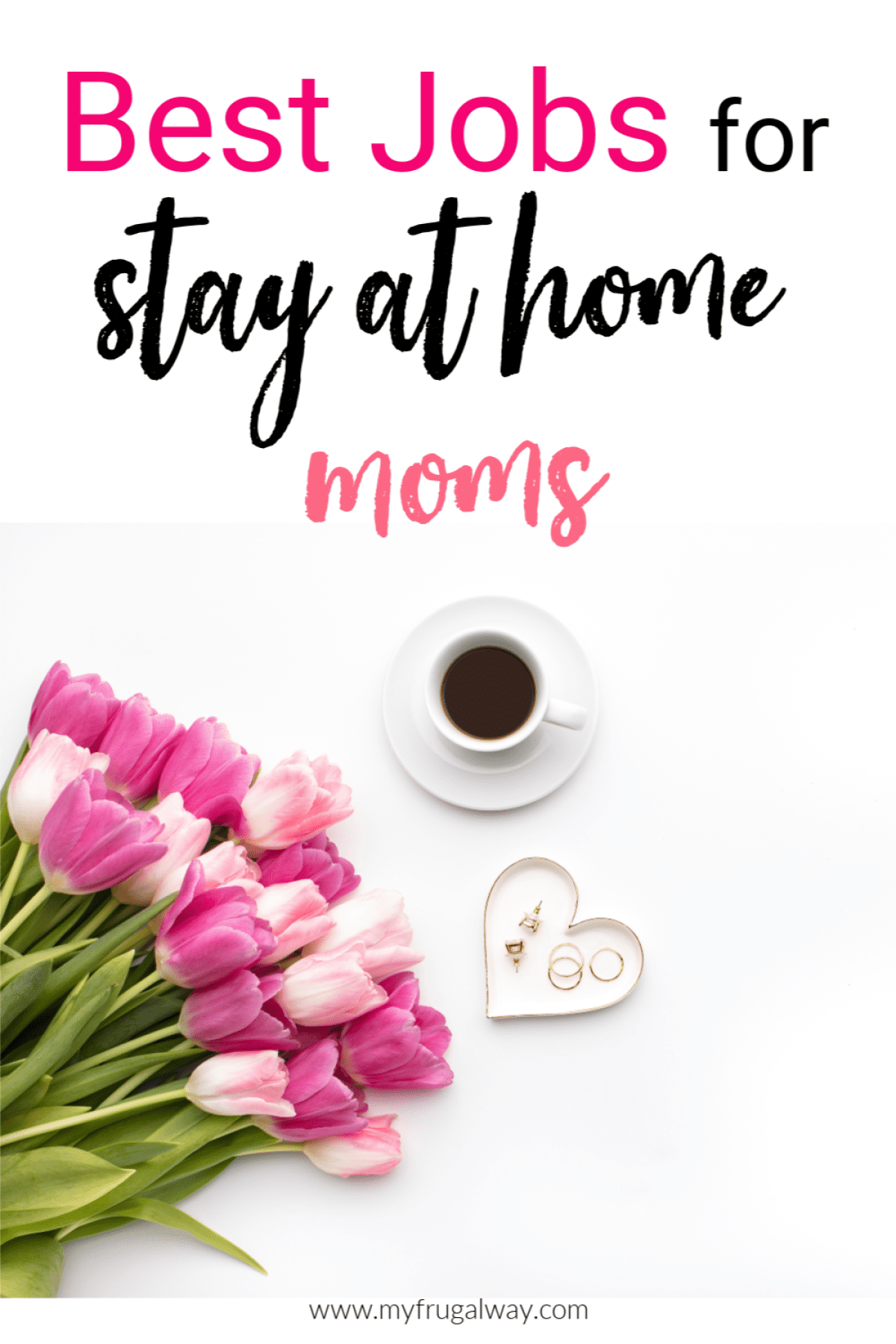 When I became a mom I knew that working is just not an option for me. I wanted to be the one raising my child and taking care of her. After staying home for 3 months with my baby, I went back to work, I was blessed to have my mom as my babysitter or otherwise I would not be able to work. But I hated being away from my baby, even thou I knew that she was in good hands, being away from my newborn was just not worth it for me. Newborns grow up so fast and you will never get that time back, so after working for about two months I decided to quit my job and become a stay at home mom.
Shortly after I became pregnant the second time, and the thought of working with two kiddos is even harder, Luckily I was able to stay home with my kiddos. Living on one income, of course, is not easy, and I wanted to contribute financially as well. So I started to search for the best stay at home jobs, I tried everything from taking online surveys to website testing and even owning my own e-commerce store. I was sick and tired of seeing all these job postings claiming to make $100 a day from simply watching videos or completing online surveys, you will make pennies and waste so much time in my opinion.
With today's technology expanding I knew that there has to be a good stay at home jobs for moms. So I started researching for the best stay at home jobs and I even landed myself a work from home customer service job working from Nordstrom. I was surprised how many work from home employees Nordstorm had, there was at least one employee from each department that worked from home. It amazed me so I knew that if you look hard enough you can and will find a great stay at home job.
After some experience and in-depth research, I've put a list of the best jobs for stay at home moms with no experience that will help you make extra income.
1. Become a Virtual Assistant.
More and more people are becoming online business owners and need administrative support/Virtual assistants to help them manage their business. As a virtual assistant some of the tasks you can offer are:
Managing your client's schedule
Data Entry
Drafting letters and emails
Handling customer service inquiries
Accounting.
There are just so many services a virtual assistant can provide, and that is why there is a big need for VAs.
Where to look for Virtual Assistant Jobs? Facebook Groups are great for finding virtual assistant jobs. I belong to many blogging facebook groups and I've seen many times clients asking for if anyone is interested in becoming a virtual assistant and help them with their blog/business. I would recommend joining a facebook virtual assistant group and I'm sure you will find a job that suits your needs. Some other legit websites that hire VAs are:
BelayYou will be doing a little bit of everything, from maintaining appointments/calendar, email management, and organization to social media management. The pay per Glassdoor is between $14-$18 an hour.
Boldly Once hired Boldly will suggest clients who are seeking assistance in your area of expertise and after speaking with the client if you are interested you choose whether or not you would like to work that client. They claim that they pay anywhere between $20 to $22 an hour depending on experience.
If you are serious about becoming a virtual assistant and I would recommend starting your own Virtual Assistant Business and be your own boss and make a career out of it.
2. Become a Proofreader.
If you love grammar and find yourself fixing grammar mistakes, then proofreading would be the job for you. As a proofreader, you will be editing files and correcting typographical errors spellings before they get published. As a proofreader, it's important to have great attention to detail and a careful eye.
Where can you find Proofreading Jobs?
You can start by searching for proofreading jobs on popular online job boards like Indeed.com, Flexjobs, and LinkedIn. Some of the reputable companies that frequently hire proofreaders are:
3.Work From Home as a Transcriptionist.
As a transcriber, you will be listening to audio files and typing what you hear into a text. Have you ever visited a doctors office and watched him dictating onto a dictating microphone?
Well as a medical transcriptionist your job would do listen to those doctor notes and type into a software. There are many businesses that need transcription services, such as video production, lawyers, and marketing consultants.
If you are interested in transcription work and would like more information check out These 10 Transcription Jobs That Hire Stay At Home Moms.
4.Photography.
If you are passionate about photography its a great career to make you money doing what you love. Many online businesses and bloggers are in need of stock photography to create beautiful content and pin images for their websites. You can start your photography business and sell your photos online to popular stock agencies such as:
Creativemarket– Get your products in 

front of over 6 million members, you can set your own prices and keep 70% on each sale.

Adobe Stock 33% commission for photos and vector art.
You can also sell stock images on your website like Kayla from IvoryMix, and keep 100% of the profit.
5.Virtual Bookkeeper.
You could work as a virtual bookkeeper from home, typically these are non-phone jobs and usually communicated via email. A bookkeeper is basically an accountant who manages finances from day to day. The following companies hire remote bookkeepers.
Keep an eye out for virtual bookkeeping jobs on Indeed and Glassdoor.
6. Become A Freelance Writer.
Do you love to write? Why not get paid for your writing. You can try searching for freelance writing jobs on Pinterest and Google, once you find potential clients you will need to cold pitch to them to get hired. LinkedIn is also a great place to look for freelance writing gigs, make sure to create your own portfolio. You can also check out these websites that hire freelance writers Problogger and Bloggingpro.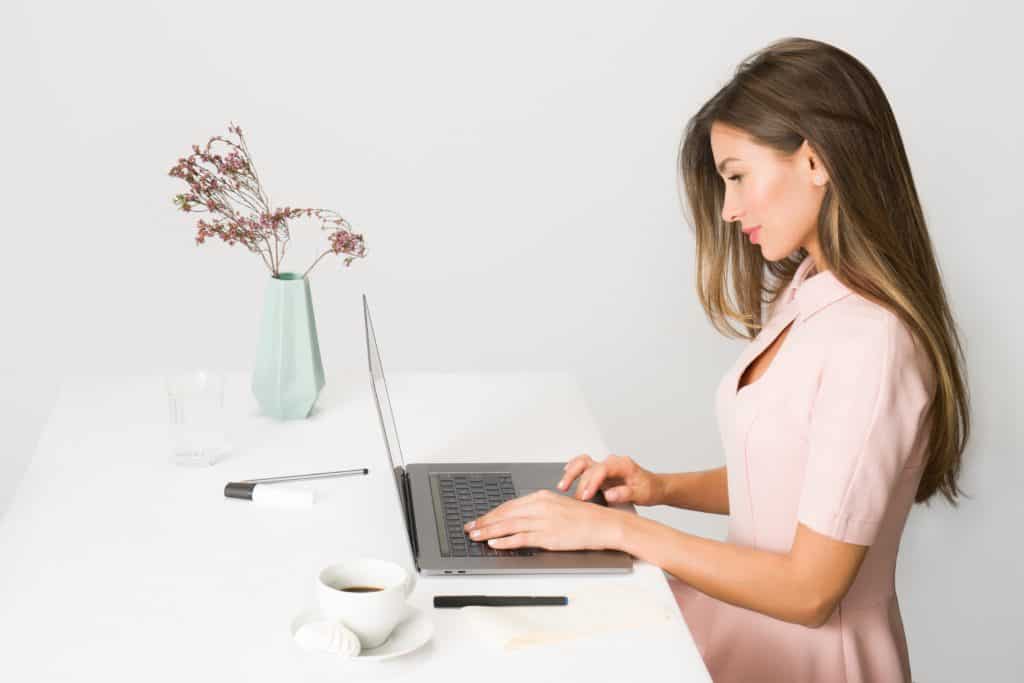 7.Become a Pinterest VA
Blogging is becoming more and more popular and many bloggers hire Pinterest Virtual Assistants to basically manage their Pinterest Account. At the moment I manage my own Pinterest account, and its a lot of work, I can definitely see the need for a Pinterest Assistant, especially for bigger bloggers. Pinterest is huge when it comes to driving traffic to your blog, so it's important to constantly stay active and engaged on Pinterest if you want to keep up with your traffic. As a Pinterest VA, you will :
Create new Pins and write pin descriptions
Schedule Content to Pinterest
Managing Tailwind
Managing Pinterest group boards
Research SEO terms and titles.
How to find Pinterest VA clients? Check out freelance websites like Upwork and Fiver. Honestly join Pinterest and Blogging Facebook groups and keep your eye out, I've seen several times where clients are posting that they are looking for Pinterest VA's. If you have a blog I would recommend to include a hire me page, and you can also try cold pitching to clients. Collaborate with small businesses and other bloggers and offer your services. Word of mouth is still a huge thing, and what I noticed blogging over the past year, is that bloggers love to support each other. After you land your first client and build trust, there is a high chance that you will get another referral.
8.Customer Service.
If you have great communicating skills, love problem solving and helping people, become a customer service rep. More and more business hire customer service reps from home, and like I've stated before, I myself worked as a customer service rep from home working for Nordstrom. The only downside is that most of the time you have to be on the phone, but if you have kids that are in school its a great opportunity for stay at home moms. Not all customer service is phone work, there are also positions for data entry, chat agents, and email support. Here are some companies that constantly hire work from home customer service reps.
Tip, when searching for a customer service job, type in "remote", "work at home" or "virtual" to find work from home jobs.
9. Teach Online.
If you are passionate about teaching kids and have some kind of bachelors degree, it doesn't have to education just a bachelors degree in any field, you can earn up to $22 am hour working from home. When you apply you will be required to go through a mockup class, this is where you can shine and convince them to hire you. There are many companies that hire teachers online but I'm going to recommend the top two highest-rated and most reputable.
10. Start A Blog
And finally my personal favorite work from home job, blogging. I tried many of the above options, and as you can see there is legitimate work from home options and yes you can earn money working from home. I am a hard worker and I pour my heart and soul when it comes to my work, and one day it just hit me. Why am I working so hard for someone else's success? I was wasting my best years helping another company profit, off of my hard work, when I can work for myself and be my own boss. I'm going, to be honest with you, blogging does take a lot of time and its hard work (especially in the beginning). And if you want to be successful it's all up to you, you have to have set goals and have the right mindset. You have to treat your blog as your business,  plan out your content, network with other bloggers and promote your blog, slow and steady wins the race.
How do bloggers make money?
Affiliate Marketing
Ads
Sponsored Posts
Selling Digital Products
Selling You Own Courses
Offering Services (Coaching&Consulting)
Find a topic or something that you are passionate about and create a blog around that niche. If you are thinking about Starting A Blog I Have a great tutorial here to get you started. Blogging has become my passion and I love the freedom of being home with my kids while being my own boss.
If you arent ready to start your own blog yet and looking to make extra income, I suggest this recent post 10 ways of making extra income on the side.
If you found this blog post useful, please share it will be greatly appreciated.
-Mila