We all want our blogs to succeed and stand out. We live in a digital world, and first impressions matter, especially if you are a beginner blogger. When I finally decided to start a blog (after a year of thinking about it) choosing a theme was very important to me and I was always looking for the best feminine WordPress Themes.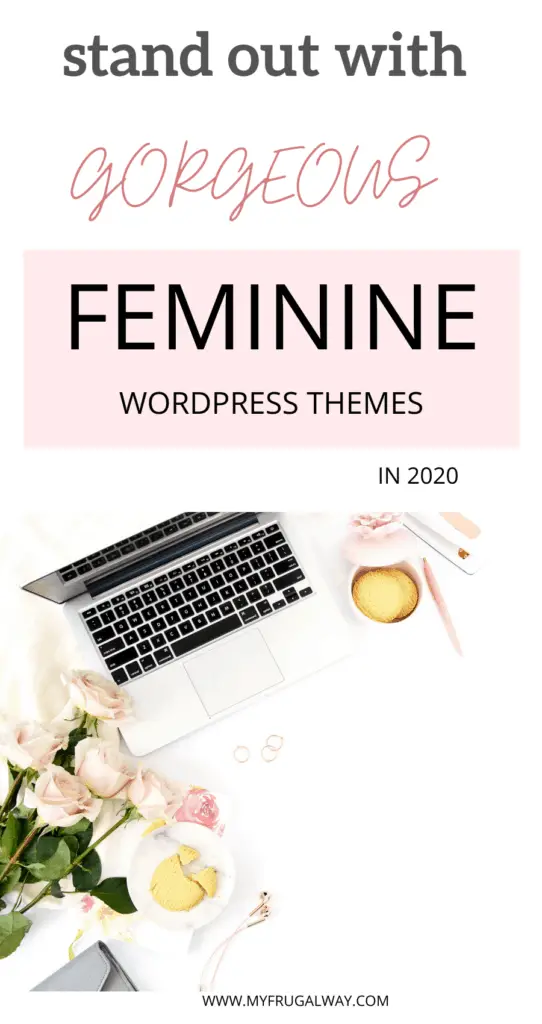 "This page contains affiliate links, Please know I would only recommend products and services I love and support"
Why do You need a Beautiful WordPress Theme?
As a new blogger, your blog design and theme plays a huge role when it comes to attracting new audience/customers. As I mentioned before, we live in a digital age and a beautiful theme will help you stand out and build your online presence.
Choosing the perfect WordPress theme helps you brand your business/blog and make your content marketing effective.
If your website is visually appealing and looks professional your audience/readers will start to recognize and trust you.
A  beautiful website theme helps you set apart from the competition, especially if you're a beginner blogger.
When I started a blog, I knew I wanted a feminine theme, and I wanted to make sure that my blog looks professional and at the same time appealing. I am a visual person, so when it comes to picking a movie to watch or what kind of book I want to read, the front cover plays a huge role in making my decision. Same with your blog, a beautiful WordPress Theme can take your blog to another level, and help you become more successful.
Wheater your an online entrepreneur or a blogger on the lookout for a beautiful feminine WordPress theme, I've put a list of my favorite Feminine WordPress Themes that will transform your website and attract traffic that converts.
When I started my blog, I opted out for a free theme, and this was my favorite feminine theme. I love how elegant and sophisticated this theme is, its perfect for female entrepreneurs. You can customize the color scheme to match your brand, and the best part it was Free. Whenever I would change to a different theme, I kept coming back to this one, I just loved the look of it and how easy it was to customize my website to my liking. Highly recommend this theme, especially if you are looking for a free WordPress theme.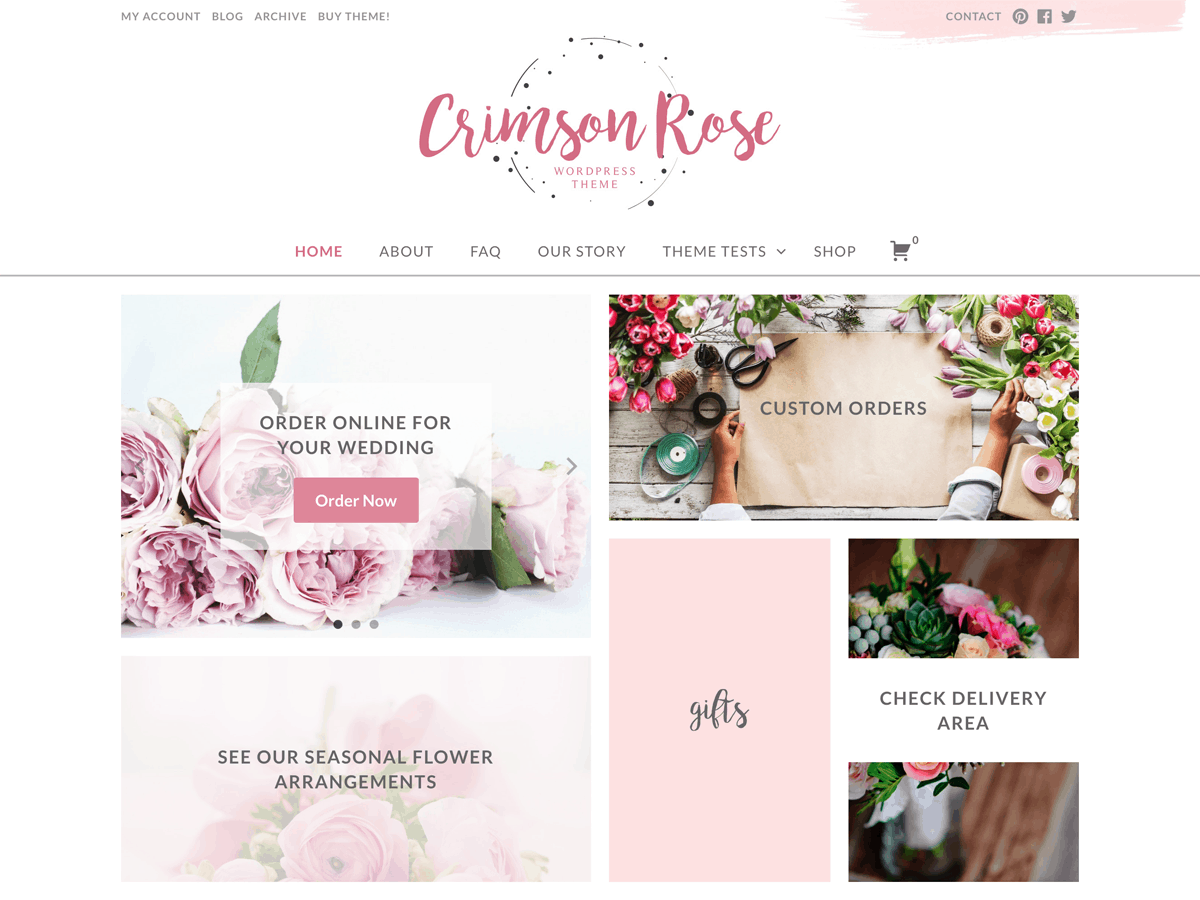 This is another free option, this theme is perfect for those who love to showcase their blog with galleries due to the special attention to image placements.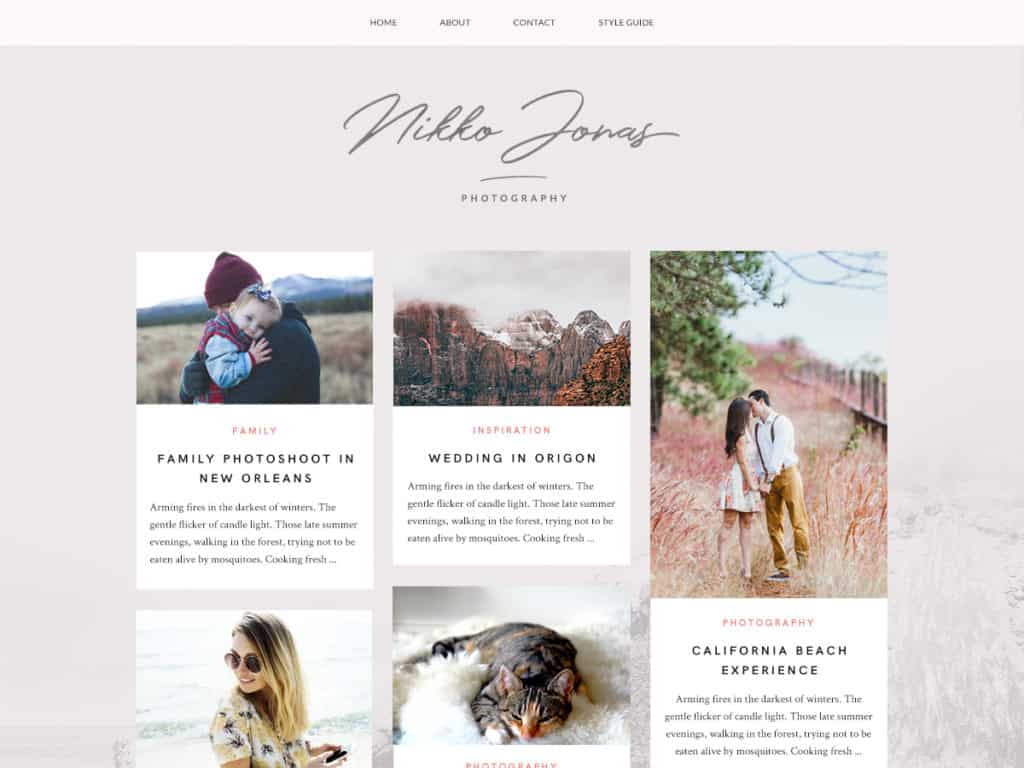 This is another good option if you are looking for a free feminine WordPress theme, it features attractive modern masonry layout, fully responsive and is SEO optimized. This theme is highly customizable and comes with 20+ custom widgets to fit your brand and make your blog more functional. Also, this gorgeous theme is WooCommerce Compatible for those who want to sell your products from your site.
Another great free option is this beautiful and professional Hamlet Lite Theme. I love the simplicity of this theme, yet it's very elegant. The free version features: Customizer Options, Featured Slider, Social Networking Share Buttons and its SEO optimized. This theme is perfect if you have a budget, and just starting out your blogging journey.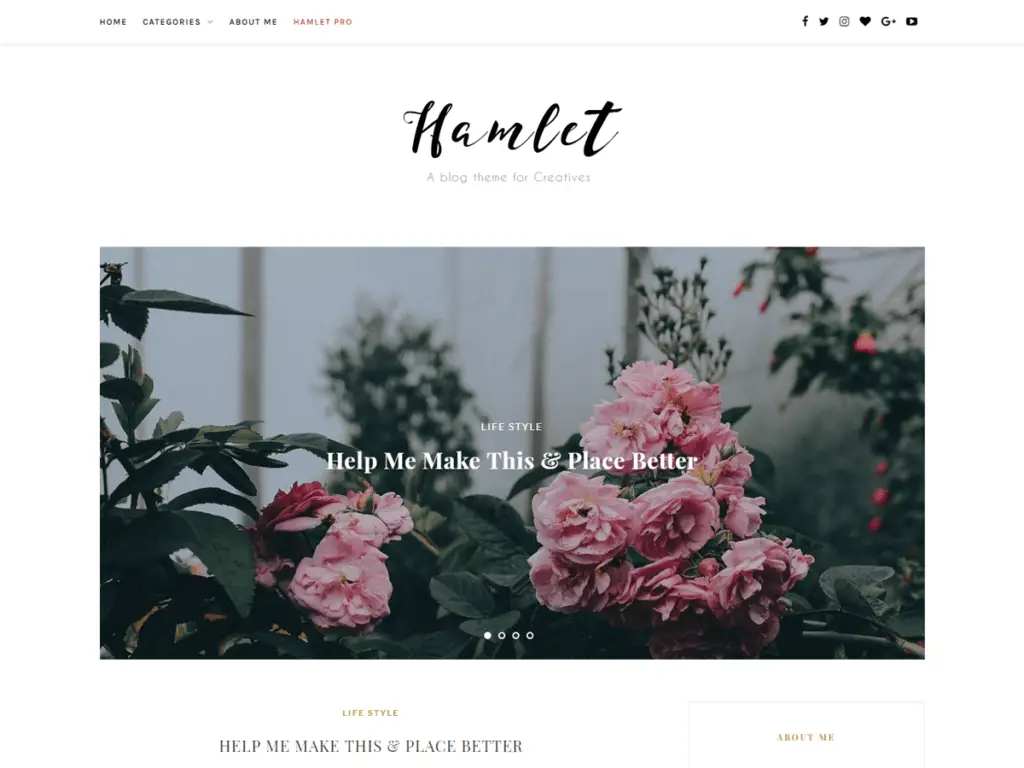 If you are looking for a clean, modern, elegant theme, I would suggest Savona Fame. This is a very beautiful feminine theme and the best part, it's FREE. The theme is SEO friendly, responsive and WooCommerce compatible.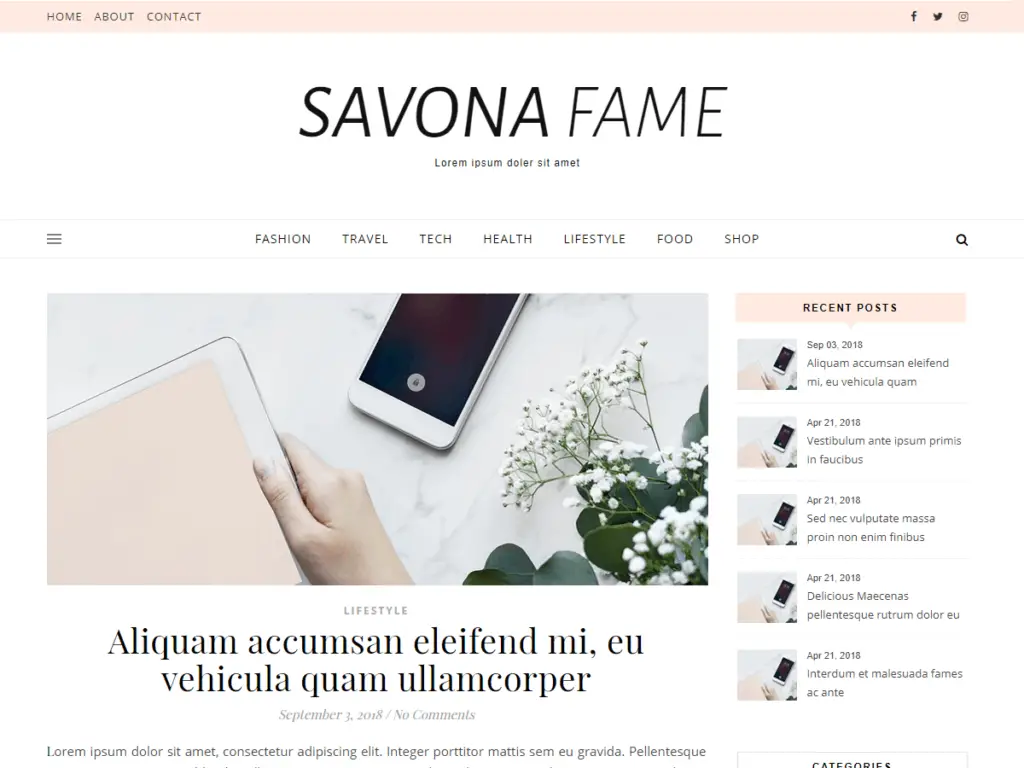 These are my top 5 free feminine WordPress Themes, there were a few others that I liked but they haven't been updated in over a year or two. So I made sure all these themes that I am recommending are maintained and up to date.
As you can see there are great free options available, especially if you are in the beginning stages of your blog. And that's exactly how I started out, I purchased a hosting package and that was all my budget allowed me at that time. And I remember thinking why pay for a theme when there are so many great free themes available? Although I appreciate a good free theme, you are limited when it comes to customization, certain features, and support and updates.
At first, I was pretty happy with my free theme, but I had some technical difficulties and I couldn't figure out how to set it up like the demo site. I tried contacting the theme developer for help but never heard back. I spend so many hours trying to set up the site how the demo looks like, but I had no luck and it was very frustrating. I felt very limited, I couldn't showcase my content, and I just wasn't in love how my site looked like. Because I didn't want to spend any money I decided to build my own pages using Elementor, but I still wasn't satisfied with my site and I wasted so much time learning and creating my ideal website and at the end, I still couldn't get it to look like how I envisioned it.
So finally I was so fed up and frustrated, so I decided its time to invest and buy a premium theme. And it has been one of the best investments in my blogging career, my only regret is not purchasing a premium theme sooner. Before I started blogging I kept reading how inexpensive it is to start a blog, and buying a theme was the last thing on my mind. But it should be as important as choosing your domain name.
6.Bluchic
After a ton of research, I decided to purchase Maggie Theme By Bluchic and I am in LOVE with it. I love the beautiful and responsive design, the theme is mobile-friendly, fully customizable and SEO friendly. The theme offers so many awesome features that you will love.
Its WooCommerce Compatible
Coded SEO friendly to help search engines easily read your site and helping you drive organic traffic to your site.
Newsletter Signup Form so you can start growing subscribers and growing your email list.
Bluchic Plugins.
When you purchase a theme from Bluchic, you will receive a step by step tutorial on how to set up the theme by yourself, exactly how the demo looks like. Bluchic has amazing customer service if you are having an issue with setting up your site or have questions, you can submit a ticket and Bluchic is very good with quickly responding back, they try to respond within 24 hours. I love the support that they offer. And if you are still struggling with setting up your theme,  Bluchic offers a paid installation service, they will help you set up your new theme exactly like the demo site.
One of the reasons why I decided to purchase The Maggie Theme is because you don't need to additionally purchase a framework. Many of the premium beautiful themes I wanted to buy required you to have a Genesis Framework which costs $59.95 and you still have to buy a theme separately. Bluchic saves you money, and you get lifetime updates at no additional cost.
Check out Bluchic during their End of Year Sale, which begins Monday, December 28, 2020, and ends on Monday, January 4, 2021, at 11:59 pm ET. Again, no code needed to get that sweet 20% off! Happy Shopping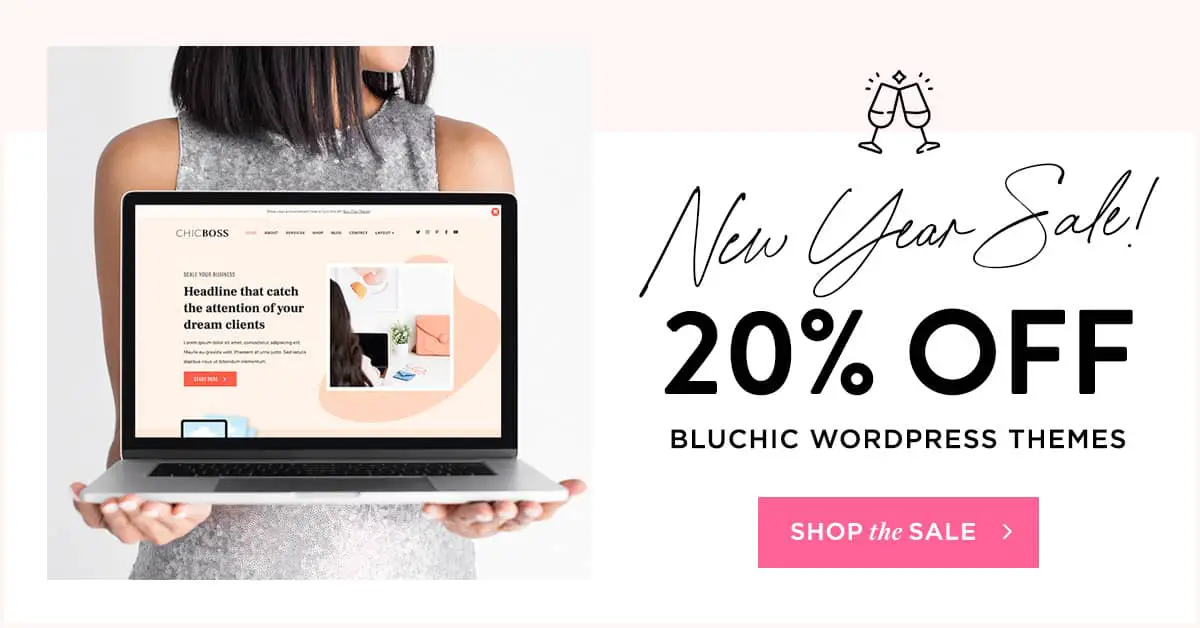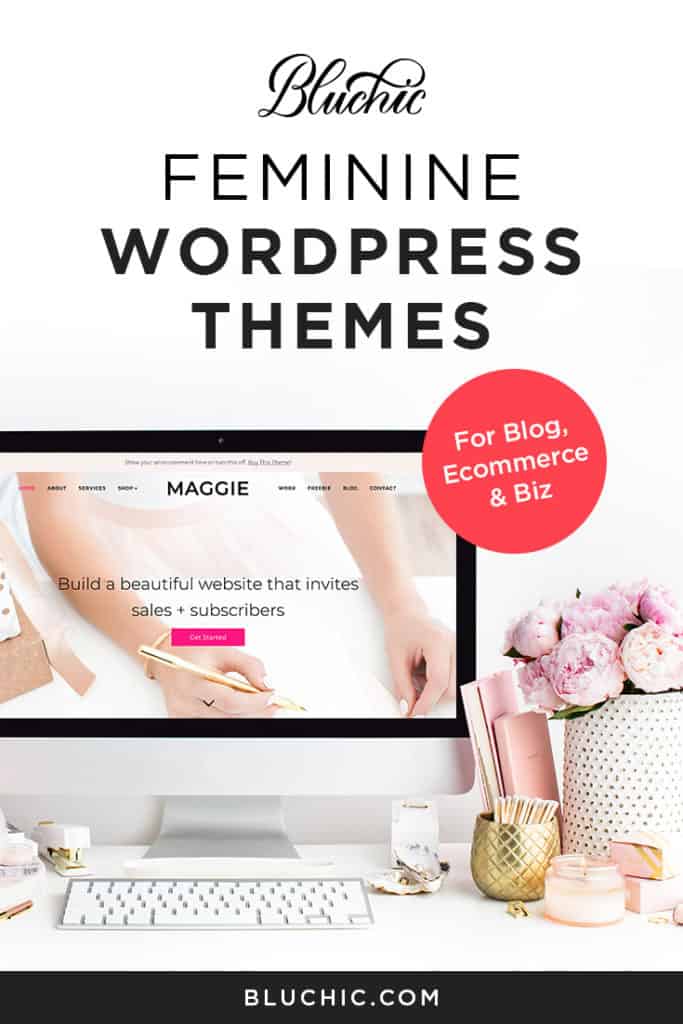 This theme is specially designed for the business model, it's highly professional and made for female entrepreneurs. You can choose from eight yes eight different blog layouts, and it comes with endless customizability. And as a bonus, you will get 10 gorgeous Stock Photos from the Styled Stock Society (all of the photos from the demo site). And Bluchic is having the biggest sale of the year, so I would suggest taking advantage of this offer while you can.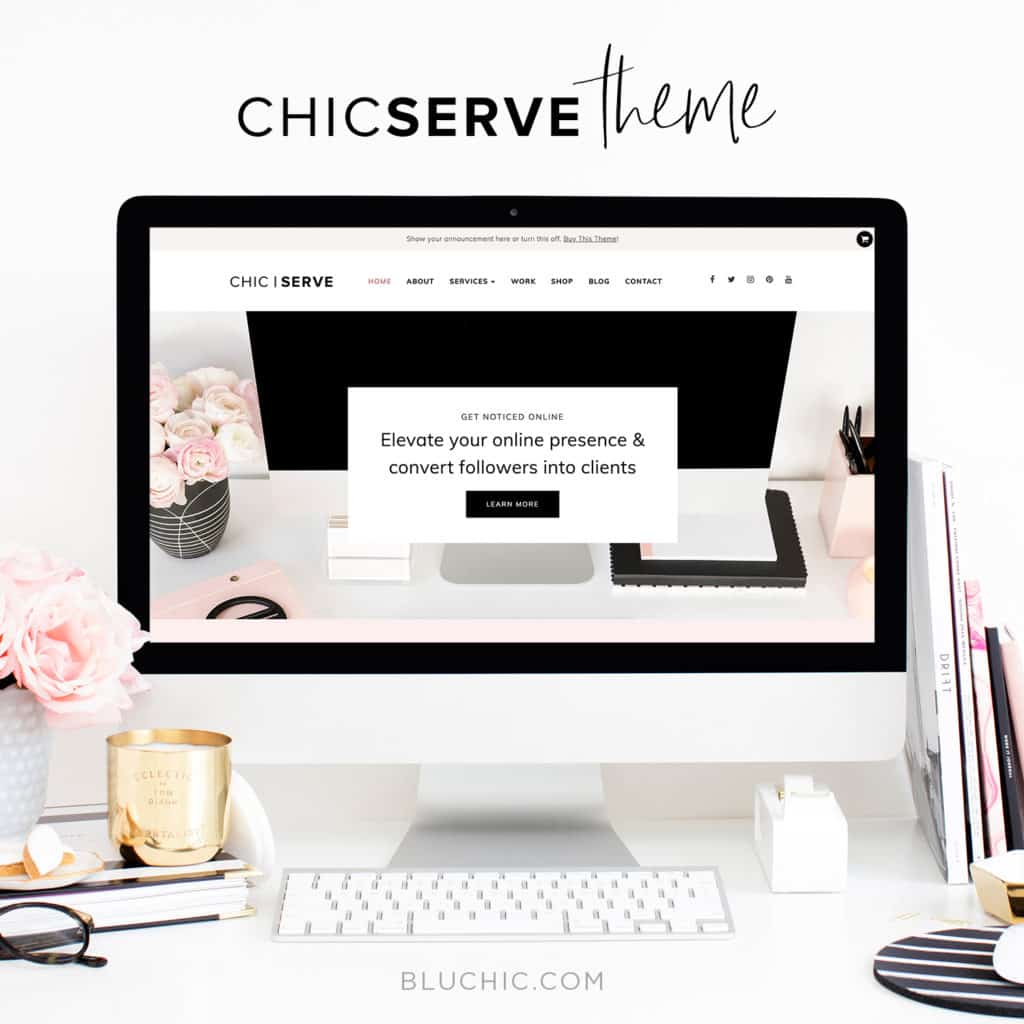 If you are looking for clean and classy themes love themes from Restored316. They have so many beautiful feminine WordPress themes to choose from. When you pay for a premium theme, it comes with documentation and support team ready to help you. This Dazzling Theme stands out to me, its so glamorous, and has so many awesome features. Once you install your theme, all the necessary plugins will be automatically installed. You will need a copy of the Genesis Framework for all Restored316 themes, and they require that because of its Airtight Security and SEO Purposes.
Take your time and do your research before you install a WordPress theme. Figure out your audience and what you are trying to solve, then what features are important to you to display your blog? As I mentioned above, free themes are great options but remember they are free for a reason. When I started blogging I was under impression that blogging is very inexpensive, and it can be. But as your blog grows, so will your expenses. And if you want long term goals and success, I would highly recommend purchasing a premium theme.
10.Market Theme

Which one was your favorite theme? Comment below I would love to know.
-Mila