My first pregnancy felt so long, I was so excited to become a mom and couldn't wait to meet my baby. There were so many on the to-do list before the baby arrives and packing the hospital bag for labor was one of the last things on my mind, it seemed so far away. That's why when the time came to finally pack my hospital bag, I was so excited because I knew that soon I will meet my precious baby.
It's a good idea to be prepared and pack your hospital bag in advance, trust me when you start having contractions the last thing on your mind will be what to pack in the hospital bag. You will just want that baby out. So that's why I recommend starting packing your bag at 37 weeks or earlier.
If this is your first pregnancy(or not) and you are just not sure what to pack in the hospital bag, I put a list of essentials you actually need to pack in your hospital bag and what I wish I had in my hospital bag.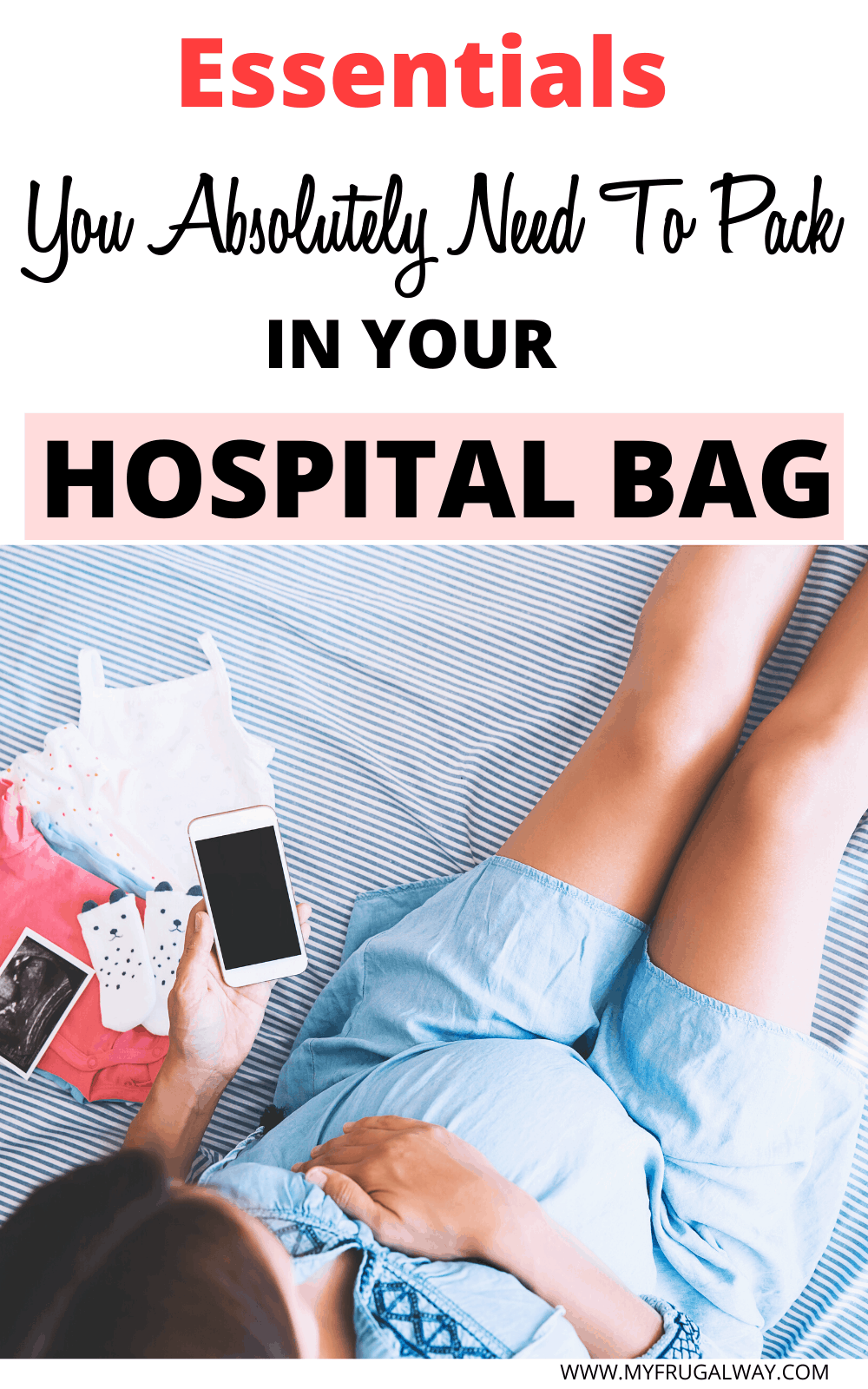 "This page contains affiliate links, Please know I would only recommend products and services I love and support"
What to pack in the hospital bag for MOM.
1. Breastfeeding Pajama Set.
I honestly don't mind the hospital gowns (especially right after birth) but I am always cold and prefer long sleeves. I like to take a shower after birth and it's just nice to change into your own fresh comfortable PJs.
2. Bathrobe
I like to take a shower after labor and delivery, not only does it make me feel like myself again but I believe it helps you to speed the up recovery faster. And I just don't like that oversized heavy bathrobe they give you in the hospital. I love the one below, its lightweight and perfect for Nursing Your baby.

3.Lip Balm.
All that breathing through those painfull contractions will dry those lips out (and sometimes they don't let you drink water until you deliver, don't worry they will give you ice instead).
4.Flip Flops (For when you take a shower in the hospital)
5.Hair Tie
6.Slippers
7.Face Towels
8.Lanolin Nipple Cream
This will be your nipple's best friend, it helps to protect your nipples from drying and cracking.

9. I prefer this Nursing Bra instead of the one that you need to unclip, it just takes too much time. Go for comfort and easy accessibility.
10.Extension Cord If you are planning on taking Epidural you will be basically glued to your bed. While you are waiting for the baby its nice to have the phone on you. I wish I brought an extension cord or even a portable charger with me so I didn't have to bother my husband so much to keep charging the phone and bringing it back to me.
11.Phone Charger(of course I probably don't need to remind you, its a given )
12.Toiletries
Cosmetic Bag
Shampoo (Travel Size)
Body Wash (Travel Size)
Tooth Paste (Travel Size)
Toothbrush
Floss
Deodorant
Makeup (Basics- Foundation, bronzer, blush, mascara, eyebrow pencil)
Makeup Brushes (Foundation, Bronzer, and Eyebrow Brush) or if you have a beauty blender even better its more versatile.
Face Wash (Travel Size)
Makeup Wipes (Travel Size)
13. Hairbrush
14.Picture ID
15.Insurance Card
16.Mints
17. A Bag for Dirty Laundry
18. Eyeglasses (If you wear them)
19. Socks. (For when you go home)
20.Snacks (For the dad and for you after birth)
21.Favorite Card Game. (Don't laugh, I'm serious about this one. After I had my epidural its a waiting game and I wish I packed my Favorite Card Game to help pass the time.)
22. Going Home Outfit. (Loose Dark Leggins, Favorite T-shirt, and Cardigan).
23.Spare Change. (In Case you run out of snacks)
24. Phone (This should be at the top of the list)
25. Sleeping Mask and Earplugs (It's so hard to fall asleep in the hospital, especially with nurses coming in to check on you,  and housekeeping and If you are like me, I cannot fall asleep if there's even a little bit of light in the room, hopefully sleeping mask will let your sleep for a little bit).
The hospital will also provide you with many of the essentials that you will need after delivery, so if you are worried that underwear or maxi pads are not on this list, don't worry your hospital should provide you those things. I've seen so many hospital lists and you don't need to pack nursing pads, Pain Sprays, Peri Bottles, save room in your bag the hospital will provide you with those things. (If you are not sure, I would double-check with your hospital and you might need to pack these items, but in my experience they were extra ).
What to pack in Hospital Bag For Baby.
2.
Bodysuit Onesies, I like This One  Particularly because they come with mitten cuffs, you would be surprised most newborns are born with long nails and I love onesies with mitten cuffs because it prevents the baby from scratching themselves. Those little separate mitten gloves never worked me, they come off too easy and I am always on the lookout for a good Onesie with Mitten Cuffs.

3.Baby Hat (In Case you don't like the Hospital One)
4. Going Home Outfit.
5.Burp Cloths (Perfect for Spit Up)
6.Baby Bottle (In case you are having a hard time with breastfeeding or need to supplement with formula, its always good to be prepared). I love Dr. Brown bottles, they are designed to reduce colic and air bubbles.
7.Pacifier
9.Baby Blanket. (When you go home)
10.Car Seat
The hospital should provide you with things like diapers, wipes and baby powder. And you can always request for more if you run out.
I know this seems like a lot of things to pack for just a night or two, I honestly overpacked my first time. Just think of necessities that you absolutely need, don't stress and overthink it, you honestly don't need much. But its always a good idea to be prepared, the most exciting part of packing your hospital bag is knowing that soon you will meet your precious baby.
If I missed anything, please let me know in the comments below. I would love to hear what essentials are most important for you to pack in the hospital bag?