In today's world with technology all around us, it can honestly be little challenging raising kids without electronics. Growing up I had the BEST childhood, our street was always packed with kids and we were always outside playing hide and seek, tag, and all sorts of games. My parents raised us without a tv, and I can honestly say I did not know what being bored is like. I want the same for my children, I want them to enjoy their childhood and not just waste it on screen time.
"This page contains affiliate links, some of the links below are affiliate links, meaning that if you click through and make a purchase, I will make a small commission at no additional cost to you."
I also believe that too much screen time is not healthy for a child's development, a recent study from the National Institutes of Health reported that Children with more than two hours a day of screen time got lower scores on thinking and language test. You can read more about the research study here Screen Time study here are some fun activities and screen time alternatives to keep your child busy.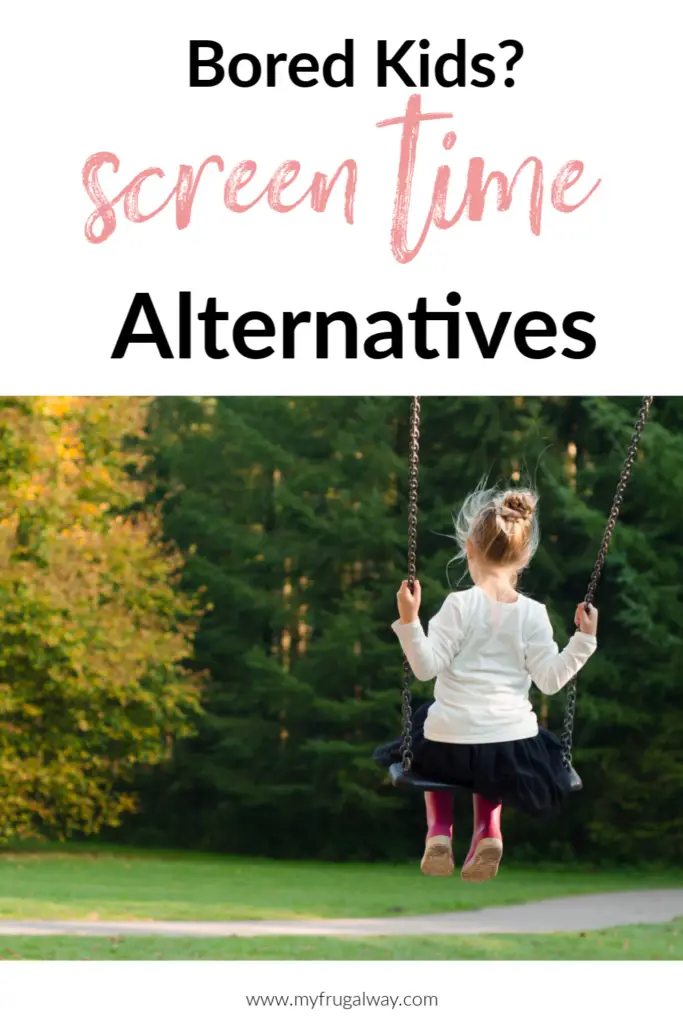 1. Take them Outside
I believe kids should spend as much time as possible playing outside, they get fresh air, they use their imagination and playing outside helps them get more exercise and run their energy off. We tried to make out backyard a fun zone for the kids so that they want to go outside. We bought them a playground and swing set from Costco and my husband built them a sandbox to play in, and they can spend hours playing there. But of course they get bored from time to time so I take them to different parks and we try to go on daily walks.
Kids love to explore, find a kid-friendly hike and let them enjoy nature. My 6-year-old daughter loves flowers and her favorite thing to do is pick flowers making her own bouquet and gifting it to me, its the cutest thing ever. Hiking can be very relaxing and it helps kids with their self-esteem and improves their cognitive skills and memory.
2.Legos.
My kids love legos and I love them even more (wink), they can spend hours playing with Legos and building all kinds of objects. Also, Legos helps kids with concentration, creativity, and spatial organization. Not only is it fun but also beneficial for their development. Recently we bought this LEGO CLASSIC SET its perfect for both boys and girls and it's been keeping my kids busy with building and creating their own projects.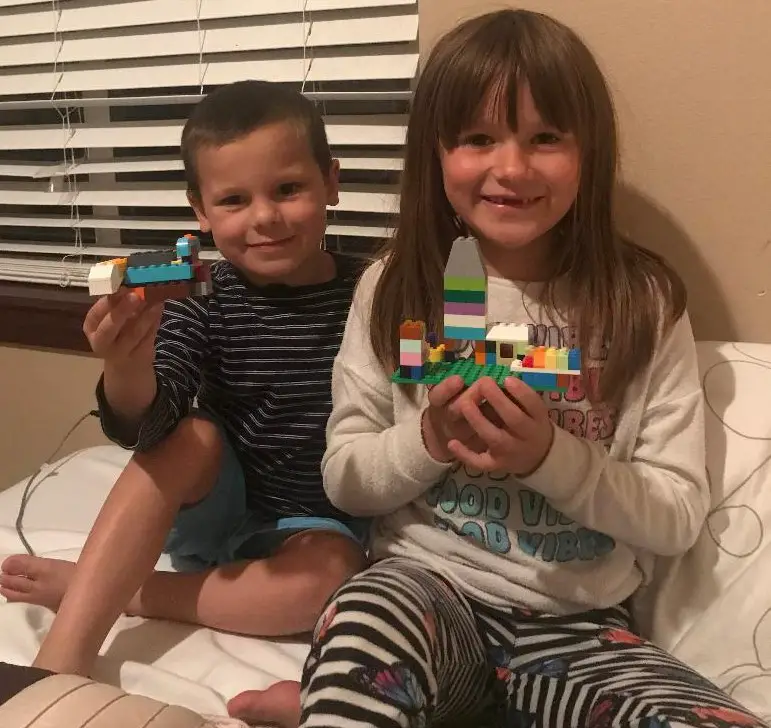 nopin = "nopin"
3.Puzzles.
Puzzles are another staple at our house, I also love that it helps my kids with their problem-solving skills and gets them to put their thinking hats on as I like to call it. Puzzles are also great for the little ones, it's a fun activity and help children develop strong hand-eye coordination and makes learning more fun with different shapes and colors.
4. Crafts and Arts.
You don't have to get fancy or spend a lot of money, I actually buy most of my crafting supplies at the Dollar store super cheap. Kids love to create with their own hands, it makes them so proud, it can be anything from coloring to paper plate flowers or making bracelets. Last year I was one of the helpers at my churches annual kids camp and one of the crafts for the smallest group was paper lanterns, and it was a hit, and it was super easy to make.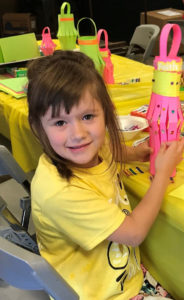 5. Make your own Slime
What's better than store-bought slime? Making your own slime! It's super simple and you just need 3 ingredients which you probably have around the house anyway.
Ingredients.
1 1/2 tbs baking soda
2 TBSof contact lens solution (make sure it has boric acid)
Optional
Instructions.
Pour Elmer's glue into a container, add baking soda and mix together then add the contact solution (for stretchier slime add a little bit of water) and lastly for more fun and sparkle and your favorite glitter. And whoala that's how easy it is to make your own slime.
6.Playdoh.
Playdoh is a great screen time alternative, it was my childhood favorite and my kids love it too. With playdoh kids use their creativity and imagination, I'm all about fun but I love it, even more, when fun becomes a learning ability. You can even make a Homemade Playdoh, to find out how? read this awesome super simple tutorial HERE
7. The Floor Is Lava.
My kids love playing a silly game called the Floor Is Lava, where they imagine that the floor is hot lava and they try to stay off the floor by jumping on furniture or other objects around the room.
8.Fusible Beads
If you are looking for time-consuming screen time alternative activity, then Fusible Beads is your answer. It's a great art and crafts activity for the kids and it will keep your kiddo busyy.
9. Let your kids play with other Kids.
Kids need to play with other kids their own age, its important for their social skills development, confidence and self-esteem. Kids should enjoy their childhood and make new friendships. As I mentioned before, I grew up in a very friendly neighborhood and there were lots of kids my age, to this day I still remember playing hide and seek in the dark with all the neighbor kids. Now times are different and we have to set up play dates, I'm blessed to have family and friends with kids same age groups like mine, which makes play dates so much easier.
10.Books.
Reading is a great screentime alternative, my kids love it when I read to them (especially when I make special noises) its a great way to spend more time with your kids. Also, reading to your children helps to improve their memory and ability to think and understand the meaning of language. If your child is old enough encourage them to read out loud, reading will help your child with his/her imagination and will help them with their school success.
These are just some of my parenting ways and screen time alternative activities for kids to keep my kiddos occupied and screen free. Let me know below in the comments your favorite kid activity, and if you enjoyed this post please don't forget to share.
Thanks so much,
-Mila