I find it very challenging when it comes to shopping for the man in my life. They don't give out hints like girls do which makes it nearly impossible to find the perfect gift they don't already have. So through the year, I was under a secret undercover mission (little did he know) and I studied and surveyed my husband and other men in my life what interests them. So do not fear I put together a list that the guy in your life would actually want and love, and the best part is, of course, it's budget-friendly.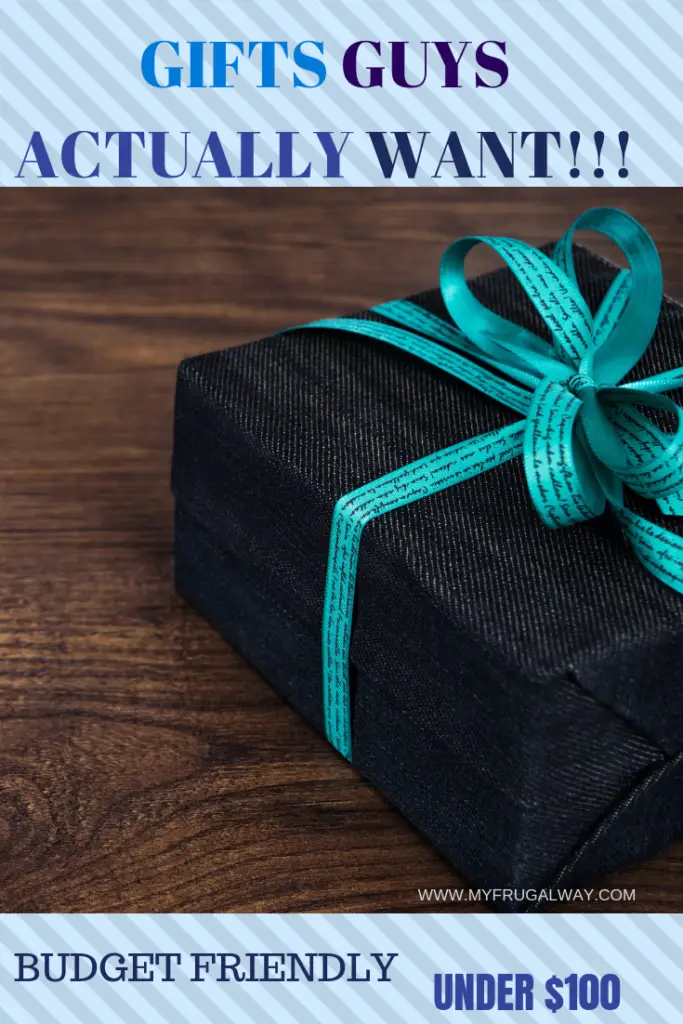 1.Harmon/Kardon Onyx Mini Portable Wireless Speaker.
Last year one of my family members was gifted this speaker for Christmas, and I had to have it. For such an amazing price it had everything I wanted, it was portable, wireless, offers Bluetooth capability and amazing sound quality. My husband is not into music like I am, but since we bought the speaker he constantly uses it and loves the high sound quality and the base in the speaker.

2.UGG Scuff Slippers.
Most guys like to pretend they are so tough but once they slide their foot into luscious UGG Slippers they will not want to leave the house or take them off. They are perfect for winter, especially if you have tile or hardwood floors. UGG quality and workmanship is top notch, and not to mention the sheepskin is like heaven for your feet.
3.BBQ Grill Tool Set.
If your husband, boyfriend, brother or father in your life loves to grill like mine does then this amazing BBQ Grill Tool Set.The set comes with all the tools you would need for barbecuing, spatula, tongs stainless steel skewers, wire cleaning brush, corn holders, extra cleaning brush head and a basting brush and very budget-friendly.
If your guy loves music, then get him this Wireless Headset Beanie Its water-resistant, no more wires, built it mic and headphones, perfect for the cold weather.
5. Italian Genuine Cowhide Leather Wallet.
You can never go wrong with gifting a new wallet, last Christmas I gifted my husband a brand new wallet and he loved it. Gifting wallets seem very popular in my family all the men seem to enjoy it very much, I love watching them sniffing the soft genuine new leather, I know I must be doing something good. Buying a good quality wallet is very important, after all you do keep very important information in there.
6.Northface Jacket.
Who would not want this sleek,stylish,warm and lightweight Northface Jacket. My husband owes several of the Northface Jackets, he loves the design and quality, he is very picky and this is a must have for the colder months.
7.Portable Charger.
This is the perfect gift for anyone, especially if your out and about all day, a portable charger is such a genius invention. Not only is it lightweight, fast charging but also compatible with iPhones and Samsung phones. This portable charger is my favorite and my hubby loves it too, especially the 46-hour battery life.

8.RAZOR.
This is a no-brainer, all men shave and constantly need new Razors. My husband loves this Merkur Classic Razor and prefers this razor over all the other razors. Often he gets razor bumps and rashes from other razors but this one seems to do the trick, it helps him to contour his face and perfect for different cutting angles.
9.Pair Of Joggers.
Comfy and stylish, the perfect pair of joggers any guy would want. Of course, there are cheaper alternatives but after looking through some reviews, it will be more cost-effective in the long run to spend a little more for good quality that will last a lot longer.

10.Smart Water Bottle.
Ok, I know what your thinking, "a water bottle"? No, this isn't just plain old water bottle, it's SMART bottled water. This is such an amazing invention to encourage you of staying hydrated. It keeps track of your water intake and glows to remind you to drink more water. Now you don't have to be that naggy person constantly trying to get the guy in your life to drink more water, this amazing water bottle will do the job for you.

I hope that these ideas were helpful and wish you find the best gift for the man in your life.